Welcome to Pulaski Heights Elementary School
Return to Headlines
Annual Virtual Celebration Honors Teachers and Classified Employees of the Year
UPDATE: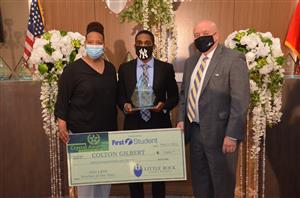 Presenting Sponsor Tameula Smith with First Student presents
ceremonial check to 2021 LRSD Teacher of the Year Colton Gilbert as Supt. Mike Poore joins them.
Congratulations to the newest educator to represent the District in the LRSD Teacher of the Year circle - Colton Gilbert, Little Rock Central High School. Gilbert was named the District's top teacher and recipient of the Marian G Lacey Educator Award Monday, May 3, 2021, during a special ceremony timed to coincide with the celebration of National Teacher Appreciation Week. Gilbert will now vie for Arkansas's top teacher.
Additionally, at the level recognition, Kelly Burrus, Wakefield, was named Elementary Teacher of the Year; Dariane Mull, Pinnacle View, selected as Middle School Teacher of the Year; and Matt TerAvest, Parkview, chosen as High School Teacher of the Year.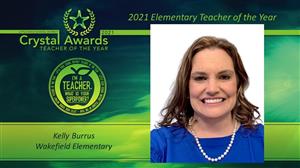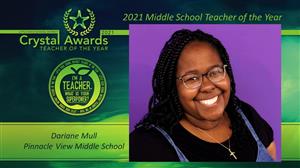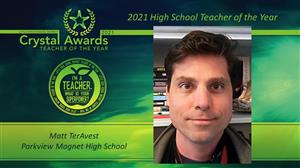 Monday's event also included LRSD's top classified employees, from whom the Classified Employee of the Year was named - Patricia Brown, representing the District's health professionals.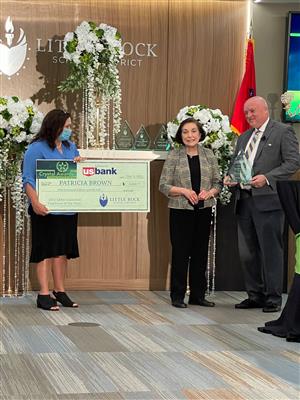 US Bank representative Jennifer Bearden presents
ceremonial $1,000 check to Patricia Brown as
Supt. Mike Poore holds Brown's trophy.
See the complete list of honorees below. Congrats to all the outstanding educators and support staff who were recognized this year!
________________________________
LRSD is proud to celebrate its outstanding employees during the virtual 2021 Teacher of the Year and Classifed Employee of the Year ceremony, Monday, May 3, 2021 at 6 p.m.
The public is invited to help us honor these employees by watching the ceremony on LRSD's YouTube Channel, Comcast Channel 4 or U-verse Channel 99, and leaving congratulatory notes and messages on their social media pages, using the hashtags #LRSDTOY2021 #LRSDSuperPower #LRSDPowerofUS
Congratulations to the following honorees:
2021 Classified Employees of the Year
Transportation - Frank Howard
Health (Nurse, OT/PT, Mental Health) – Patricia Brown

Custodian – Maurice Phelps
Child Nutrition – Barbara Surratt
Maintenance & Operations – Michael Ellis
Paraprofessional – Chris Carrigan
Security Officer – Zachary Heaton
Secretary/General – Ada Ratliffe-Butler
2020-2021 Teachers of the Year
High Schools
Central
Central High - Colton Gilbert
Central High - Helen Gaddy
Central High - Patrick Foley

Little Rock Hall STEAM Magnet
LR Hall STEAM Magnet - Candace Chappell
LR Hall STEAM Magnet - Chad McKeough
LR Hall STEAM Magnet - Christy Ritchie

Little Rock Southwest High
LR Southwest High - Brooke Jordan Griffen
LR Southwest High - Dr. Marie Boone
LR Southwest High - Roger Robinson
Little Rock West High School of Innovation
LR West High School of Innovation - Crystal Parillon
LR West High School of Innovation - Debbie Caldwell
LR West High School of Innovation - Lisa Drannon
Parkview Magnet High
Parkview Magnet High - Dennis Show
Parkview Magnet High - Matt TerAvest
Parkview Magnet High - Neitasha Tims
---
Middle Schools
Cloverdale Middle
Cloverdale Middle - Veronica Jarrett
Cloverdale Middle - LaKeitha Austin
Dunbar
Dunbar Middle - Bonnita Rowe
Dunbar Middle - Shakelia Jackson
Forest Heights STEM Middle
Forest Heights STEM Middle - Aaron Harris
Forest Heights STEM Middle - Brandon Randle
Henderson
Henderson Middle School - Sharon Johnson
Henderson Middle School - Mythetta Gray
Mabelvale Middle
Mabelvale Middle - Kelan Watson
Mabelvale Middle - Yolanda Watson
Mann Magnet Middle
Mann Magnet Middle - Yvonne Hogue
Mann Magnet Middle - RaeAnn Carman
Pinnacle View Middle
Pinnacle View Middle - Dariane Mull
Pinnacle View Middle - Michelle Whatley
Pulaski Heights Middle
Pulaski Heights Middle - Adrian Booker
Pulaski Heights Middle - Edna McEwen
---
Elementary Schools

Bale Elementary - Daisey Nowlin
Baseline Academy - Jenna Jones
Booker Magnet Elementary - Mariah Reescano
Brady Elementary - Tamra Wiley
Carver Magnet Elementary - Stephanie Crowell
Chicot Elementary - Joany Lowry
Dodd Elementary - Kimberly Johnson
Fair Park Early Childhood - Kristen Brizzolara
Forest Heights STEM Elementary - Tera Phillips
Forest Park Elementary - Ingrid Michelle Graves
Fulbright Elementary - Allison Stafford
Geyer Springs ECC - Mitzi Nicks
Gibbs Magnet Elementary - Blair Ray
Jefferson Elementary - Jennifer Beranek
King Elementary - Kia Ervin
Mabelvale Elementary - Misti Hess
McDermott Elementary - Karyn Wortsmith
Meadowcliff Elementary - Nyree Williams
Otter Creek Elementary - Sandra Courtois-Lawrence
Pulaski Heights Elementary - Joanna Miller
Roberts Elementary - Ola Perry
Rockefeller Early Childhood - Renata Sanders
Romine Elementary - Stephanie Copes
Stephens Elementary - Sandra Young
Terry Elementary - Jenny Wilbon
Wakefield Elementary - Kelly Burrus
Washington Elementary - Sabreen Al-Uqdah
Watson Elementary - Anthony Lee Goods
Western Hills Elementary - Amy Kennedy
Williams Magnet Elementary - Charis Murphy
Other Schools
Accelerated Learning Center - Suzette Cox
Metropolitan Career Tech Center - Toyoshima Gray